How to File for Bankruptcy in Manitoba
If you want to file bankruptcy in Brandon and other areas in Manitoba, your first call should be to a Licensed Insolvency Trustee. In Manitoba, Licensed Insolvency Trustees are the only professionals who are able to file a bankruptcy for you, and to help you through the process. Debt troubles can make you feel very alone, however, we are here to help you understand your options, understand the process, and assist you when you need it.  We are here to help you understand your options when trying to solve your debt problems.
Understand your options:
Consumer Proposal
Take 5 years to pay a portion of your debt and keep your assets.
Remains on your credit record for 3 years after your last payment.
Declare Bankruptcy
Shorter process – in some cases, as little as 9 months
Remains on your record for 6 years after discharge (14 years if it's your second bankruptcy)
Consolidate Debt
Work with a reputable lender to refinance your homeor apply for a loan to pay off your debts
Set up a single affordable monthly paymentwith a fixed interest rate
Get debt help today
Before you file bankruptcy, you should contact a Licensed Insolvency Trustee to explore the options available to you. A Licensed Insolvency Trustee will walk you through the entire process and help you determine if filing bankruptcy in Manitoba is your best option. You can be certain that all your options, and all available debt solutions in Manitoba will be discussed, so that you can make the best decision for your situation.
Need to file Bankruptcy in Manitoba?
Get Started Today
Call us today at 855-352-FREE (3733) or fill out our form for your free, private, consultation! Contact us today – No matter the situation, our Trustee will provide trustworthy, personalized debt solutions. For more information about filing for bankruptcy in Manitoba or to discuss the alternative solutions, call us today. Our office in Brandon – call or fill out our form for an appointment.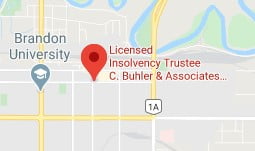 In Winnipeg